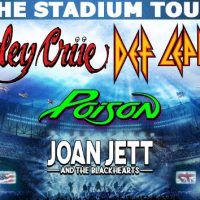 Courtesy of Live NationOfficial details have been unveiled for Mötley Crüe's recently announced 2020 reunion tour, which in addition to featuring the previously reported Def Leppard and Poison, also will include Joan Jett & the Blackhearts as a support act.
The outing will kick off July 7 in Miami, and will hit stadiums across the U.S. before wrapping up September 5 in Los Angeles. A total of 22 concerts have been announced.
The tour marks the Crüe's first show since New Year's Eve 2015, as well as their return to the stage after announcing the end of their "cessation of touring agreement" in November. The '80s glam-metal act had previously signed the document in 2014 ahead of what they called their final tour to legally prevent them from ever playing live together again.
Tickets to the 2020 tour go on sale to the general public beginning Friday, December 13, at 10 a.m. local time. For the full list of dates and ticket info, visit Motley.com.
Copyright © 2019, ABC Audio. All rights reserved.