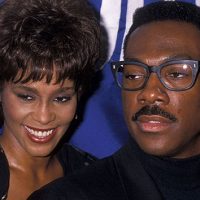 Whitney Houston and Eddie Murphy in November 1989; Ron Galella, Ltd./Ron Galella Collection via Getty ImagesIn addition to revealing that they had a physical relationship, Whitney Houston's former assistant and lover Robyn Crawford is sharing even more details about the Grammy Award-winning singer and star.
In her book, A Song for You: My Life With Whitney Houston, excerpted by People, Crawford reveals that Houston became smitten with Eddie Murphy, even while she was being courted by Bobby Brown.
"She was more interested in Eddie Murphy, but he was elusive," Crawford writes, adding that Whitney "lost herself" in trying to get with the comedian.
Crawford even recalls a time where Whitney invited Murphy to dinner at her New Jersey mansion, but unfortunately, plans did not go as expected.
"One day when Eddie was supposed to come for dinner, I caught a glimpse of Whitney," writes Crawford. "She was wearing a black dress and low-heeled slingbacks. For a moment, I thought, 'Boy, I wish she was doing that for me.'"
According to Crawford, Murphy "never showed up that night," a rejection that left Whitney devastated.
However, Crawford says Murphy may have had a change of heart, because on the morning of her July 18, 1992, wedding to Bobby Brown, Whitney got a unexpected call from the Murphy.
"[That day], Eddie Murphy called to say she was making a mistake," Crawford writes, "but she pressed ahead."
A Song for You: My Life with Whitney Houston will be published November 12. You can see Crawford's full interview on Dateline, which airs Saturday at 9 p.m ET/8 p.m. CT on NBC.
Copyright © 2019, ABC Audio. All rights reserved.