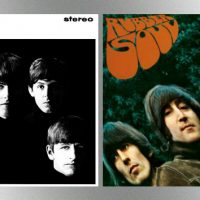 Calderstone Productions Ltd./UMGRobert Freeman, a photographer whose images of The Beatles were used for the covers of several of the Fab Four's albums, has died. According to NME, he was 82.
Freeman photos are featured on With The Beatles and its U.S. counterpart Meet The Beatles, as well as Beatles For Sale, A Hard Day's Night, Help! and Rubber Soul.
Surviving Beatles Paul McCartney and Ringo Starr both have post online tributes to Freeman.
"He was one of our favorite photographers during the Beatles years who came up with some of our most iconic album covers," McCartney writes in a message on his official website. "Besides being a great professional he was imaginative and a true original thinker."
Sir Paul notes that the cover shot for the Meet The Beatles album wasn't "a carefully arranged studio shot," as people often thought, but rather "it was taken quite quickly by Robert in the corridor of a hotel we were staying in where natural light came from the windows at the end of the corridor."
Also in the tribute, McCartney recalls how the distorted image used for the Rubber Soul album cover came about by accident as Freeman was aligning a projection of the intended photo on a white card that had fallen over.
Paul ends his homage by saying, "I will miss this wonderful man but will always cherish the fond memories I have of him."
Starr, meanwhile, tweeted a simple message that says, "God bless Robert Freeman peace and love to all his family, followed by a series of emojis in including, of course, peace and love.
Copyright © 2019, ABC Audio. All rights reserved.