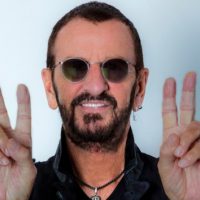 Credit: Scott Robert RitchieRingo Starr's new cover of the John Lennon rarity "Grow Old with Me" — a track from Ringo's upcoming solo album, What's My Name — has been released as a digital single and via streaming services.
The tune features bass and backing vocals by Paul McCartney and a guitar solo by Ringo's brother-in-law Joe Walsh.
In a new interview with the U.K.'s BBC 6 Music radio channel, Starr reveals that he decided to record "Grow Old with Me" after famed producer Jack Douglas gave him Lennon's demo of the romantic ballad, which features an unexpected message from John to Ringo.
As Starr recalls, "At the very beginning of this CD [of demos,] John says, 'Oh, that sounds like a good song for Richard Starkey. This would be great for you, Ringo.' I still well up thinking about."
Ringo says he loves the song, which he assumes John wrote for Yoko Ono, and which now he sings to own wife, Barbara. Starr tells BBC 6 Music that he's hoping his version of the tune will become "the wedding song of the century."
As for how he feels about collaborating with his Beatles band mate McCartney, Ringo says, "It's the best. I've played with a lot of people and I can tell you, I love playing with him."
He adds, "We played a lot together in 'that band we were in,' and he's still the most melodic. He's still incredible, for me. I feel the emotion he plays."
You can check out Starr's rendition of "Grow Old with Me" at his official YouTube channel. What's My Name is available for pre-order now, and will be released on October 25.
Meanwhile, Starr also will be releasing a new photo book titled Another Day in the Life this Tuesday, October 15.
Copyright © 2019, ABC Audio. All rights reserved.