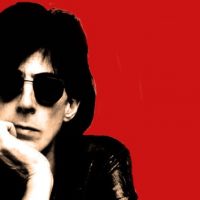 OK Management
Following Ric Ocasek's unexpected death Sunday at the age of 75, New York City's chief medical examiner has determined that the Cars rocker died of natural causes — specifically, heart disease.
According to the M.E., the cause of death was hypertensive and atherosclerotic cardiovascular disease, with pulmonary emphysema as a contributing condition.
As previously reported, Ocasek was found unresponsive and unconscious in his New York City townhouse on Sunday afternoon by his estranged wife, supermodel Paulina Porizkova. They'd been married since 1989 but were separated. She's now taken to Instagram to explain what happened.
"Ric was at home recuperating very well after surgery," she writes. "Our two sons, Jonathan and Oliver, and I were making sure he was comfortable, ordering food and watching TV together. I found him still asleep when bringing him his Sunday morning coffee. I touched his cheek to rouse him. It was then that I realized that during the night, he had peacefully passed on."
"We appreciate the great outpouring of love," she continued. "We, his family and friends, are completely and utterly devastated by his untimely and unexpected death and would appreciate the privacy to mourn in private."
In addition to Jonathan and Oliver, the Rock and Roll Hall of Famer is survived by his four other sons from his two previous marriages.
Copyright © 2019, ABC Radio. All rights reserved.