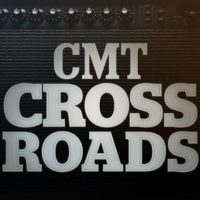 CMT
An upcoming episode of CMT Crossroads will focus on Sheryl Crow's new collaborative album, Threads, and will feature Crow teaming up with some of the guest stars that appear on the record, including Joe Walsh and Bonnie Raitt.
CMT Crossroads: Sheryl Crow and Friends premieres September 27 at 10 p.m. ET on CMT, and features the singer/songwriter performing selections from Threads with the artists who recorded the songs with her.
Besides Walsh and Raitt, the show also will include Crow duetting with Emmylou Harris, contemporary country star Chris Stapleton, Americana singer/songwriter Jason Isbell and alt-pop act Lucius.
In addition, the hour-long program will feature interview segments shot at a number of historic locations in Nashville. This will mark Crow's and Harris' third appearance on a CMT Crossroads episode, while Walsh and Raitt will be featured on the show for a second time.
You can watch a video Crow and Stapleton performing their Threads collaboration "Tell Me When It's Over" on YouTube now.
Here are some of the other Threads tracks that will be included on Crow's Crossroads episode:
"Still the Good Old Days" — featuring Joe Walsh
"Live Wire" — featuring Bonnie Raitt
"Everything Is Broken" — featuring Jason Isbell
"Nobody's Perfect" — featuring Emmylou Harris
"Don't" — featuring Lucius
Copyright © 2019, ABC Radio. All rights reserved.