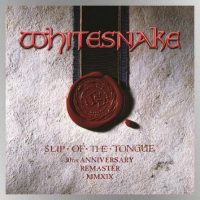 RhinoWhitesnake's ongoing deluxe reissue campaign continues with a massive 30th anniversary edition of its 1989 studio album, Slip of the Tongue, which will be released on October 4.
The six-CD/one-DVD collection boasts a remastered version of the original album; B-sides, demos, alternate mixes and outtakes from the sessions; audio and video recordings from Whitesnake's headlining set at the U.K.'s 1990 Monsters of Rock festival; music videos; a making-of feature; a new video interview with frontman David Coverdale and former lead guitarist Adrian Vandenberg; and more.
Released in November 1989, Slip of the Tongue reached #10 on the Billboard 200 chart and went on to sell a million copies in the U.S. The album included two top 40 hits: "The Deeper the Love" and "Fool for Your Loving."
Nearly all of the songs on Slip of the Tongue were co-written by Coverdale and Vandenberg. Steve Vai played lead guitar on all tracks because Vandenberg had injured his hand just before the album was recorded.
Among the deluxe reissue's bonus tracks are almost two dozen previously unreleased recordings from the sessions, including in-progress versions of many songs. The collection also includes the first-ever CD version of Slip of the Tongue: The Wagging Tongue Edition. Originally released on vinyl in 1989, it features track-by-track interviews with Coverdale.
The DVD includes a newly created promo video for the song "Sweet Lady Luck."
Slip of the Tongue: 30th Anniversary Edition also comes packaged 60-page hardbound book containing memorabilia from the period. For a limited time, the deluxe release will be available at Rhino.com with a lithograph signed by Coverdale.
Two-CD, single-CD, double-LP and digital versions of the reissue are also available.
Check out the full track list at Whitesnake.com.
Copyright © 2019, ABC Radio. All rights reserved.