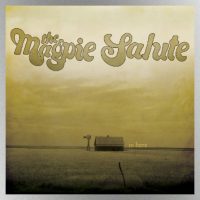 Eagle Rock EntertainmentOn September 6, Black Crowes spinoff group The Magpie Salute will release a new three-track EP titled In Here. That comes in advance of the band's sophomore studio album, High Water II, due to arrive on October 18.
In Here will be available digitally globally, and will also be issued in the U.S. as a limited-edition 10-inch, 140-gram-vinyl LP. The EP's title track — also is the first single from High Water II — is available now on all digital platform. You can check out a lyric video for the tune, written by founding guitarist Rich Robinson, at The Magpie Salute's official YouTube channel.
The EP's other two songs are "Lost Boy" and "Passenger." "Lost Boy" is a country-flavored tune co-written by Robinson and guitarist Marc Ford, that includes guest vocals and fiddle by country/bluegrass star Alison Krauss. That song also will appear on High Water II.
"Passenger" was co-written by Robinson and Magpie Salute frontman John Hogg, and will only be available on the In Here EP.
The Magpie Salute features three former Black Crowes members: founding guitarist Robinson; Ford, who played with the group from 1991 to 2006; and bassist Sven Pipien, who was a part of the lineup from 1997 to 2015.
Copyright © 2019, ABC Radio. All rights reserved.