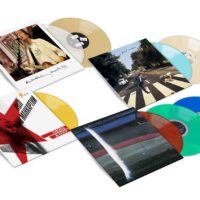 Capitol/UMe/MPLFour archival Paul McCartney live albums were reissued today in multiple formats, including limited-edition colored-vinyl LP versions.
The records — 1976's Wings over America, 1988's Choba B CCCP, 1993's Paul Is Live and an expanded version of the 2007 Amoeba's Secret EP, now titled Amoeba Gig — are also available on CD and black vinyl.
Arguably the most interesting of the reissues is Amoeba Gig, which features the full 21-song set McCartney played at L.A's Amoeba Music store. Until now, only four of those performances have been widely released, on the Amoeba's Secret EP.
The two-disc LP version of Amoeba Gig include a bonus rehearsal performance of "Coming Up." The colored-vinyl edition features a clear disc and a hazy-amber-transparent disc.
Wings over America topped the Billboard 200 in January '77. Originally was released as a three-LP set, it captured highlights from McCartney and his band Wings' 1975-76 tour. The colored-vinyl version of the reissue features the discs colored transparent red, transparent green and transparent blue.
Choba B CCCP, which is Russian for "Back in the USSR," was originally issued exclusively in the Soviet Union before getting a worldwide release in 1991. The album features covers of 11 of Sir Paul's favorite songs from the 1950s, recorded live in the studio. The colored-vinyl reissue is an opaque-yellow disc.
Paul Is Live features performances from McCartney's 1993 New World Tour. The album ends with a trio of songs recorded during pre-show rehearsals. The two-LP, colored-vinyl reissue features an opaque-baby-blue disc and a plush-peach-white-opaque disc.
The former Beatles star wraps up his North American tour leg this Saturday at Dodger Stadium in L.A.
Copyright © 2019, ABC Radio. All rights reserved.