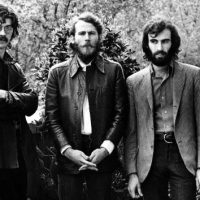 Gijsbert Hanekroot/RedfernsA new documentary focusing on Robbie Robertson's life and his work with the influential group The Band will arrive in theaters this fall.
The film, Once Were Brothers: Robbie Robertson and The Band, is inspired by the Canadian singer, songwriter and guitarist's 2017 memoir, Testimony.
The movie will feature rare archival footage, as well as new interviews with some of Robertson's famous musical friends and collaborators, including Bruce Springsteen, Eric Clapton, Van Morrison and Peter Gabriel.
The documentary also includes conversations with music mogul David Geffen and The Last Waltz director Martin Scorsese, who's Robertson's pal and an executive producer on the film.
Also serving as executive producers are Ron Howard and Brian Grazer, the duo behind the 2017 Beatles documentary Eight Days a Week — The Touring Years. Daniel Roher is directing.
"I'm honored to have my memoir, Testimony, made into a documentary film by such an extraordinarily talented creative team," says Robertson in a statement.
As in Testimony, the film will follow Robertson's life, from growing up a half-Jewish, half-Native American kid in and near Toronto; to joining the popular Canadian bar band Ronnie Hawkins and the Hawks as a teenager.
From there, he and The Hawks, minus Ronnie, served as the backing band on Bob Dylan's first "electric" tour, recorded the legendary "Basement Tapes" with Dylan and then transformed into The Band. It ends with The Band's historic 1976 farewell concert, The Last Waltz.
Following its theatrical opening, Once Were Brothers will premiere on Canadian video-on-demand service Crave in early 2020.
Meanwhile, Robertson was presented with the Canadian Music Industry Hall of Fame's Lifetime Achievement Award Thursday at the 2019 Canadian Music and Broadcast Industry Awards Gala Dinner in Toronto. Robbie told CBC.ca that getting the honor was "quite wonderful."
Copyright © 2019, ABC Radio. All rights reserved.