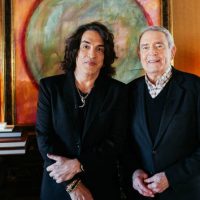 Credit: Mandee Johnson
KISS singer/guitarist Paul Stanley is featured on the latest episode of AXS TV's The Big Interview, which premieres Tuesday at 8 p.m. ET/5 p.m. PT. Stanley opens up to host Dan Rather about his long partnership with band mate Gene Simmons, and what motivated them to seek rock stardom in the first place.
In a preview clip posted on AXS.tv, Stanley discusses why his professional relationship with Simmons has endured, despite differences in their personalities.
"A great partnership is based on understanding its limitations," Paul notes. "So, does [Gene] do things that I question? Does he say things that I don't want to align myself with? Does he behave in certain ways? Yeah, but that's not here or there. The core of what we have is a work ethic, and a bond that's built on time."
Stanley adds, "When you meet someone, there may be potential, but nothing comes of it without experience, and seeing how each one of you respond to crises, to victories, to defeats. And that's what Gene and I have been through together."
Stanley also admits that he wasn't initially impressed by Simmons when he was first introduced to him by a mutual musician friend, who wanted to start a band with them.
"I said [to my friend], 'Well, you can play with [Simmons] or you can play with me, but you're not gonna play with us,'" recalls Paul. "Well, here we are 50-some-odd years later and I'm very fortunate to have been on that path with [Gene]."
Stanley also chats with Rather about his passion for painting, KISS' preparations for their current End of the Road farewell tour, and how he was motivated to succeed as a rock musician partly out of insecurity over being born with a deformed ear.
Copyright © 2019, ABC Radio. All rights reserved.