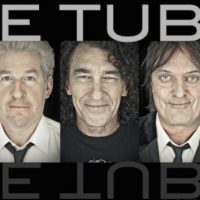 Credit: PC Juergen "Spaches" Spachmann
The Tubes will be playing select tour dates this spring that will feature a full performance of the veteran San Francisco band's 1981 album, The Completion Backward Principle. The record was The Tubes' first album to reach the top 40 of the Billboard 200, and featured the top-40 single "Don't Want to Wait Anymore" and the rock hit "Talk to Ya Later."
The trek runs from an April 4 performance in St. Charles, Illinois, through a May 18 show in North Tonawanda, New York. The Tubes also will open one concert for Blue Oyster Cult April 5 in Medina, Minnesota.
The Completion Backward Principle's theme is a parody of a spoken-word vinyl LP found by the band at a San Francisco record store, promoting a 1950s motivational sales technique.
"The Completion Backward Principle album was a spoof of corporate rock," explains frontman Fee Waybill. "The sales technique was that 'imagination creates reality,' which it turns out, was a metaphor for someone like me, who grew up singing Beatles songs around the house dying to be in a band."
Fee adds, "The album embodies and pokes fun at the whole idea of the kind of 1984 political double-speak we get from this current president every day."
The Tubes also will play select gems from throughout their career at the shows, including "White Punks on Dope" and the 1983 #10 hit, "She's a Beauty."
Also look for The Tubes to play five dates of the 2019 Lost 80s Live tour this August and September, along with other 80s acts including A Flock of Seagulls, Wang Chung, The Motels, Animotion, The Vapors, and Bow Wow Wow's Annabella Lwin.
Here are all of The Tubes' confirmed U.S. dates:
4/4 — St. Charles, IL, Arcada Theatre*
4/5 — Medina, MN, Medina Entertainment Center
4/12 — Pasadena, CA, The Rose*
4/13 — Montclair, CA, The Canyon – Montclair*
5/16 — Peekskill, NY, Paramount/Hudson Valley Theatre*
5/17 — Roslyn, NY, My Father's Place at the Roslyn Hotel*
5/18 — North Tonawanda, NY, Riviera Theatre*
8/9 — Detroit, MI, Aretha Franklin Theatre+
8/10 — Greenwood Village, CO, Fiddler's Green Amphitheatre+
8/24 — Grand Prairie, TX, Theatre at Grand Prairie+
9/6 — Los Angeles, CA, Greek Theatre+
9/7 — Las Vegas, NV, Downtown Las Vegas Events Center+
* = performing The Completion Backward Principle album.
# = opening for Blue Oyster Cult.
+ = Lost 80's Live tour date.
Copyright © 2019, ABC Radio. All rights reserved.