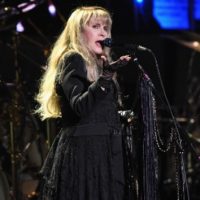 Kevin Mazur/Getty ImagesStevie Nicks has always been very vocal about her love of HBO's Game of Thrones, but she took it to the next level at Fleetwood Mac's concert in New Jersey on Wednesday night, dedicating a song to one of the show's stars.
According to Billboard, Stevie dedicated "Landslide" to a "special" guest in the audience. She said it was a Game of Thrones actor but didn't say his name. However, she did refer to him as her favorite "dragon king" — indicating that she was likely talking about Kit Harington, who plays Jon Snow on the series.
In the show, Jon Snow is romantically involved with Danaerys, the Mother of Dragons, which is why calling him the "dragon king" makes sense. Unfortunately, Jon isn't aware that Danaerys is his aunt. Oops.
Photos posted on social media reveal that Harington was indeed in the audience, along with his wife Rose Leslie, who played his previous lover Ygritte on the show.
According to Billboard, Stevie also lamented to the crowd, "They should have cast me as his mother. Oh well, too late."
It's odd that Stevie would've wanted such a small part in the show, though: Jon's mother Lyanna Stark — sister of Ned Stark — is only seen in flashbacks, since she died shortly after giving birth to Jon. In fact, Jon has no idea who his mother is.
Game of Thrones returns to HBO on April 14. Stevie, meanwhile, will be inducted into the Rock and Roll Hall of Fame — for the second time — on March 29.
Copyright © 2019, ABC Radio. All rights reserved.