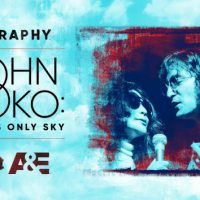 Courtesy of A&E
John and Yoko: Above Us Only Sky, a new documentary focusing on the making of John Lennon's classic 1971 album, Imagine, and its title track, gets its U.S. TV premiere tonight, March 11, as an episode of A&E's Biography Presents series.
The two-hour film explores Lennon and his wife, Yoko Ono's fruitful creative relationship by utilizing previously unseen footage from their archives, plus new interviews with Ono, Lennon's son Julian, and various people who worked on the album or were close to the couple at that time.
The documentary's director, Michael Epstein, tells ABC Radio, "I wanted the film…to demonstrate in a really organic way how much Yoko as an artist influenced John as an artist, how her voice became his voice, and how important she was to [the song] 'Imagine.'"
As the movie notes, the lyrics to "Imagine" were inspired by a piece in Yoko's 1964 book, Grapefruit.
"When you read Grapefruit, and you see the kind of instructional conceptual art that she was doing, you can hear it in 'Imagine,'" Epstein maintains.
The filmmaker also says he wanted to show how "Imagine's message remains relevant today.
"I wanted to…let John talk about this moment, where we're gassing children at the border and where we have dehumanized refugees and think that that's a good way to live," Epstein declares. "And to give us John's voice right now, 'cause God knows we need it."
Jack Douglas, who helped engineer the Imagine record and later co-produced Lennon's 1980 album, Double Fantasy, recalls his first impression of the song "Imagine."
"I just thought, 'This was a masterpiece,'" he tells ABC Radio. "I was so struck by its simplicity and its message."
John and Yoko: Above Us Only Sky airs at 9 p.m. ET/PT.
Copyright © 2019, ABC Radio. All rights reserved.