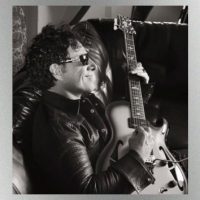 Credit: Robert KnightJourney guitarist Neal Schon is recovering after undergoing emergency surgery to remove his gall bladder this past week.
Schon revealed details of his health scare in a message on Twitter.
"Had to go into ER last night very inflamed-infected Gallbladder taken out and honestly couldn't feel better," Schon wrote. "Just need a few days [to recover]. I've apparently had this for the last 3 1/2 years and didn't know it! I thought it was parasites. I'm feeling better [than] ever."
In a follow-up tweet posted Monday, Neal thanked fans for their support, while revealing that he expects to be well enough to play the four shows he has scheduled in the coming weeks with his new Journey-themed side project, Journey Through Time.
"Want to thank you all for your very kind wishes. This means everything to me," he wrote. "[Y]our friendship is what motivates me to continue to create for you all. Can't wait to hit the stage…I should be good to go but if I have to sit I will. Love you all."
The new group's concerts are scheduled for February 22 in Jackson, California; February 23 in Oakland, California; March 1 in Phoenix, Arizona and March 2 in Los Angeles.
As previously reported, the Journey Through Time lineup also includes Schon's one-time Santana and Journey band mate Gregg Rolie on vocals and keyboards, and former Journey drummer Deen Castronovo.
You can check out some preview performance clips of the band at Neal's official YouTube channel.
Here is Journey Through Time's tour schedule:
2/22 — Jackson, CA, Jackson Rancheria Casino Resort
2/23 — Oakland, CA, Fox Theater
3/1 — Phoenix, AZ, The Van Buren
3/2 — Los Angeles, CA, The Orpheum
Copyright © 2019, ABC Radio. All rights reserved.