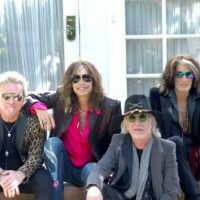 Credit: Ross HalfinAerosmith will perform at frontman Steven Tyler's second annual Grammy Viewing Party benefit to raise money for Janie's Fund, the charity he co-founded to help young women and girls who have been victims of physical and sexual abuse.
The event will take place on February 10 at Raleigh Studios in Hollywood, and will be hosted by comic actress Jane Lynch.
In addition to a rocking set by Aerosmith, the fundraiser will feature a live viewing of the 61st Annual Grammy Awards telecast, a live auction and a VIP cocktail reception and dinner.
"The journey to give these girls of Janie's Fund the opportunity to LIVE OUT LOUD continues and we're thrilled to present the 2nd annual Janie's Fund Gala," says Tyler in a statement. "We won't stop until we meet our goal to give these girls the safety of home and a zest for life."
A number of celebrities are serving as co-chairs for the event, including Aerosmith, Mick Fleetwood, Alice Cooper, Lenny Kravitz, Scarlett Johansson, Kate Hudson, Tiffany Haddish, Sharon Stone, Caitlyn Jenner, Ashlee Simpson and Ciara.
Last year's inaugural event, which featured Steven performing with his solo group The Loving Mary Band, raised more than $2.4 million for Janie's Fund. Aerosmith drummer Joey Kramer and Extreme guitarist Nuno Bettencourt also joined in the performance.
Visit JaniesFund.org for more details about the gala and the charity.
Aerosmith's set at the 2019 Grammy Viewing Party will mark the band's second performance of the year, after a February 1 concert at Atlanta's State Farm Arena as part of the Bud Light Super Bowl Music Fest.
Meanwhile, the Rock & Roll Hall of Famers will launch their previously announced "Deuces Are Wild" Las Vegas residency at the Park Theater at the Park MGM resort on April 8.
Copyright © 2019, ABC Radio. All rights reserved.