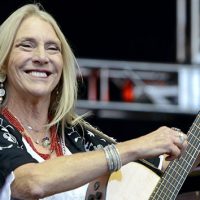 Tim Mosenfelder/Getty ImagesNeil Young's ex-wife, Pegi, has died at the age of 66 after a year-long battle with cancer.
A statement posted to Pegi's official Instagram and Facebook pages on Wednesday evening read, "With great sadness, we confirm that on January 1st, after a yearlong battle with cancer, Pegi Young — mother, grandmother, sister, auntie, musician, activist and co-founder of the Bridge School — passed away surrounded by her friends and family in her native California. We request that the families' privacy be respected at this time."
The former Pegi Morton was working as a waitress at a diner near Young's ranch when the two met in 1974. They tied the knot four years later and had two children together: Ben and Amber, both of whom were birn with disabilities — Ben was diagnosed with cerebral palsy, Amber with epilepsy.
Inspired in part by their own kids, in 1986, Pegi and Neil co-founded the Bridge School, which helps special needs children. The annual Bridge School Benefit in Mountain View, California helps raise money for the school, and has continually featured A-list artists, including Bob Dylan, The Who and Pearl Jam.
Pegi — a musician herself, with three solo albums to her credit — eventually joined her husband on tour as backup singer, making her debut as part of his band for a performance of "Philadelphia" at the 1994 Academy Awards. She's also provided the inspiration for several of Neil's songs, including "Harvest Moon," "Unknown Legend" and "Such an Angel."
Young filed for divorce from Pegi in 2014 after 36 years of marriage. This past October, he confirmed his marriage to actress Daryl Hannah in 2018.
As of early Thursday morning, there was no comment about Pegi's passing on Neil Young's website or social media.
Copyright © 2019, ABC Radio. All rights reserved.