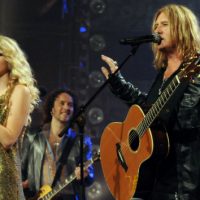 Rick Diamond/Rick Diamond/WireImageBack in 2008, Def Leppard taped an episode of the CMT series Crossroads that paired the U.K. hard rockers with none other than Taylor Swift. At the time, Taylor was a country music superstar whose songs were just starting to become pop hits. In a new Rolling Stone interview, Def Leppard frontman Joe Elliott reminisces about working with the then-18-year-old star.
"The whole thing came together because somebody walked into our dressing room…he goes, 'It's Taylor Swift, she's doing this interview, and she said there was only band that she would ever do a Crossroads with, and it was Def Leppard,'" Elliott recalls.
"We went, 'Wow, OK, get in touch with her….' Lo and behold, couple of months go by and, all of a sudden, we're doing this show."
Elliott says he and Def Leppard turned up for rehearsals knowing all the lyrics and chords to Taylor's songs, and she did the same. But the only difficulty, as Elliott remembers, came when they talked about performing one particular song: his band's #2 1987 smash "Pour Some Sugar on Me."
"Me and Taylor sat down, and she says, 'I can't sing that line,' 'cause it was a bit too risqué," Elliott reveals. "So we'd swap things around."
Video of the performance shows Taylor refraining from singing lines like "I'm hot, sticky sweet/From my head to my feet" and "You got the peaches/I got the cream."
By the way, you may be aware that Mutt Lange, who co-wrote and produced that Def Leppard hit, went on to marry Shania Twain and produce all her hits — and Twain was a big influence on Swift. So there's your connection.
As previously announced, Def Leppard will be inducted into the Rock & Roll Hall of Fame in March.
Copyright © 2018, ABC Radio. All rights reserved.