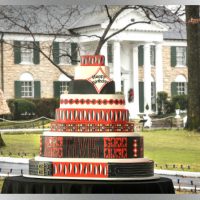 Courtesy of Elvis Presley's GracelandThe 2019 edition of Elvis Presley's Birthday Celebration, held at the late King of Rock 'n' Roll's Graceland estate in Memphis, Tennessee each year, is scheduled to run from Saturday, January 5, through Tuesday, January 8, the day Presley was actually born in 1935.
Among the highlights of the 2019 celebration: a series of events featuring Presley's close friend Jerry Schilling. As part of an exclusive package offer, Schilling will attend a cocktail party and private movie screening with fans, host a "show & tell" event and more.
Schilling, who was a close confidant of Elvis from 1954 until his death in 1977, will share anecdotes and experiences he had with the King throughout their long friendship.
Two other main events of the four-day celebration are the annual Birthday Proclamation and "The Auction at Graceland" memorabilia sale, which both are scheduled for Tuesday, January 8.
The Birthday Proclamation ceremony begins at 9:15 a.m. CT on Graceland's North Lawn. Officials from Graceland and the Memphis area will take part in the event, which will feature the cutting of a birthday cake and a proclamation of "Elvis Presley Day" in Memphis. Fans who can't attend the event can watch it live online via LiveStream.com/ElvisPresleyGraceland.
"The Auction at Graceland" will begin at 12:30 p.m. CT at Graceland's Guest House Theater. Among the priciest items up for bid is a gold and diamond "TCB" necklace that Presley gave a gift to his personal physician, George "Dr. Nick" Nichopolous, which is expected to sell for between $60,000 and $80,000.
Other events scheduled during the 2019 Birthday Celebration include the "Elvis Birthday Party on Wheels" on January 6. It'll will take fans on a bus trip from Graceland to Presley's birthplace in Tupelo, Mississippi.
Visit Graceland.com for full details.
Copyright © 2018, ABC Radio. All rights reserved.