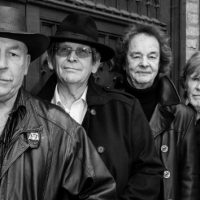 The Zombies' Hugh Grundy, Chris White, Colin Blunstone and Rod Argent (Payley Photography)It's almost the time of the season for the Rock & Roll Hall of Fame to announce its latest class of inductees, and for the fourth time in six years, The Zombies are among the nominated artists.
Bassist Chris White, who joined The Zombies shortly after their formation, tells ABC Radio that "it couldn't be better" just being considered for induction. He notes that the main reason for the band's enduring appeal is its 1968 baroque-pop masterpiece Odessey and Oracle, the second and last album by the group's classic lineup, which broke up several months before the record's release.
"[I]t's recognition for an album that finished us 'cause no one wanted it, and now everybody seems to like it," White maintains. "And [now that the band members are all] in our seventies…it's a great thought that people really appreciate it and have nominated us for an honor."
If the Rock Hall's online fan poll is any indication, The Zombies have a good shot to finally be inducted in 2019, as the band currently is fourth in the voting, after Def Leppard, Stevie Nicks and Todd Rundgren.
"I just think the fans are fantastic for voting for us," says White. "They've been so good, and they've…done it so well."
White hasn't been part of the official Zombies lineup since the band re-formed in 2000, but he and founding drummer Hugh Grundy rejoined the group in 2017 and this year for tour dates celebrating the 50th anniversary of Odessey and Oracle.
White tells ABC Radio that touring with his old band mates has been "great fun," noting that they're all still "very close friends."
Voting in the Rock Hall fan poll closes this Monday, December 9. The 2019 inductees are expected to be announced a few days later.
Copyright © 2018, ABC Radio. All rights reserved.