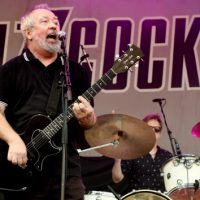 Shirlaine Forrest/WireImagePete Shelley, the lead singer, rhythm guitarist and main songwriter of the pioneering British pop-punk band The Buzzcocks, has died at age 63 after suffering an apparent heart attack, the BBC reports. The group's management told the BBC that Shelley passed away today in Estonia, where he'd been living.
A post on The Buzzcocks' Twitter feed confirms Shelley's death. It reads: "It's with great sadness that we confirm the death of Pete Shelley, one of the UK's most influential and prolific songwriters and co-founder of the seminal original punk band Buzzcocks."
The band formed in 1976 in Manchester, England, and scored a string of top 40 hits on the U.K. charts in 1977 and 1978, including "What Do I Get?," "Love You More," "Ever Fallen in Love (With Someone You Shouldn't've)," "Promises" and "Everybody's Happy Nowadays."
After The Buzzcocks broke up in 1981, Shelley launched a solo career and that same year had a #14 hit on the U.S. dance chart with the synth-pop gem "Homosapien."
Fine Young Cannibals covered "Ever Fallen in Love" in the late '80s and their version of the tune appeared on the soundtrack of the 1986 film Something Wild and their own chart-topping 1989 album, The Raw and the Cooked.
The Buzzcocks reunited in 1989 and have continued to tour and record. The band had a December 14 show scheduled in Arnhem, Netherlands, as well as a series of European concerts in the summer of 2019.
Among the many artists influenced by The Buzzcocks were Green Day, Nirvana, R.E.M. and The White Stripes.
Copyright © 2018, ABC Radio. All rights reserved.