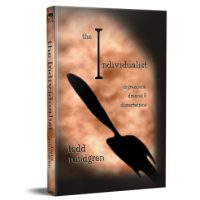 Cleopatra BooksOver the last 50 years, Todd Rundgren has enjoyed an impressively diverse and prolific career as a singer, songwriter, guitarist, producer and technological innovator. Now, the 70-year-old artist can add "book author" to his resume: His autobiography, The Individualist: Digressions, Dreams & Dissertations, will be published on December 21.
In the 240-page volume, Todd examines his wide-ranging career and his dramatic personal life. He also shares recollections about his experiences and interactions with fellow music legends like Janis Joplin, Brian Wilson, Ringo Starr, Patti Smith, The New York Dolls, Meat Loaf and many others.
The Individualist is broken up into easily digestible three-paragraph chapters, and boasts a variety of previously unseen photos. You can pre-order the memoir now at CleoRecs.com.
The book will arrive shortly after Rundgren discovers whether or not he'll be inducted into the Rock & Roll Hall of Fame in 2019. After recently being nominated for the honor for the first time this year, Todd currently sits at #3 — after Def Leppard and Stevie Nicks — in the fan poll hosted by the Rock Hall's official website.
The five nominated artists receiving the most votes in the poll will make up a "fans' ballot" that will be included with the other ballots. Voting closes at December 9 at 11:59 p.m. ET. The 2019 inductees will be announced later that month.
Meanwhile, Rundgren will wrap up the latest U.S. leg of his Unpredictable tour this weekend with a November 24-25 stand in Honolulu.
Here's are all the remaining dates on his 2018 trek:
11/20 — San Juan Capistrano, CA, The Coach House
11/21 — San Juan Capistrano, CA, The Coach House
11/24 — Honolulu, HI, Blue Note Hawaii
11/25 — Honolulu, HI, Blue Note Hawaii
Copyright © 2018, ABC Radio. All rights reserved.