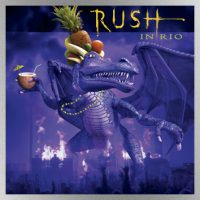 RhinoIn 2003, Rush released a CD and DVD titled Rush in Rio, which captured a November 23, 2002, performance in Rio de Janeiro. It was the final show of the Canadian prog-rock trio's tour in support of their then-latest album, Vapor Trails. Now, Rush in Rio is set to be issued on vinyl for the first time, in the form of a four-LP set pressed on 180-gram vinyl that hits stores on January 18.
The 31-track album features all 29 songs that the band played in Rio, as well as two bonus performances: "Between Sun & Moon" from a September 27, 2002, show in Phoenix, Arizona, and "Vital Signs" from an October 19, 2002, concert in Quebec City, Canada.
The Rio de Janeiro show took place at Maracana Stadium and was attended by 40,000 people. Among the many classic songs Rush performed at the event were "Tom Sawyer," "New World Man," "The Big Money," "Free Will," "Closer to the Heart," "2112," "Limelight," "The Spirit of Radio" and "Working Man."
The concert featured a drum solo by Neal Peart that was titled "O Baterista," Portuguese for "the drummer," which earned Rush a Grammy nomination for Best Rock Instrumental Performance.
"In all the years of touring, few gigs matched the energy we witnessed from the Rio audience," says guitarist Alex Lifeson. "[The concert] remains one of the greatest highlights we've experienced in over 40 years of touring."
The vinyl edition of Rush in Rio will feature a gatefold sleeve, and will include an access code for a digital version of the album.
Here's the track list of the Rock in Rio four-LP vinyl set:
Side One
"Tom Sawyer"
"Distant Early Warning"
"New World Man"
"Roll the Bones"
Side Two
"Earthshine"
"YYZ"
"The Pass"
"Bravado"
Side Three
"The Big Money"
"The Trees"
"Free Will"
"Closer to the Heart"
Side Four
"Natural Science"
"One Little Victory"
"Driven"
"Ghost Rider"
Side Five
"Secret Touch"
"Dreamline"
"Red Sector A"
"Leave That Thing Alone"
Side Six
"O Baterista"
"Resist"
"2112"
Side Seven
"Limelight"
"La Villa Strangiato"
"The Spirit of Radio"
Side Eight
"By-Tor & The Snow Dog"
"Cygnus X-1"
"Working Man"
"Between Sun & Moon"
"Vital Signs"
Copyright © 2018, ABC Radio. All rights reserved.