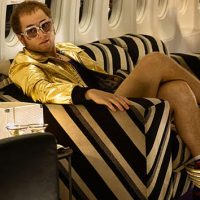 Paramount PicturesHow do you go about portraying a larger-than-life music icon like Elton John on screen? In actor Taron Egerton's case, you become friends with the pop-rock legend himself.
Egerton stars as Elton in the upcoming biopic Rocketman, which is described as being "based on a true fantasy." Taron tells ABC Radio that Elton — with whom he appeared in the movie Kingsman: The Golden Circle — readily welcomed him into his life.
"The thing he did was allow my access to him and he allowed us to become friends and I mean, I can't speak for him, but [I] say that with sincerity, I genuinely think of him as a friend now," Egerton tells ABC Radio. "He's a wonderfully kind, supportive, gentle, soulful human being and he's been incredibly encouraging of me."
Egerton says Elton invited him to his house to spend time with his family and adds that they "hung out a lot" over the course of the production. They became so close, in fact, that Elton gifted him something quite personal.
"He gave me this incredible gift of his first-ever diamond earring before we started shooting and I actually wear it in the film at some key moments," Egerton reveals. "So I feel quite close to him, actually, having lived something of his life over the past few months and spent some time with him."
Rocketman hits theaters May 31, 2019.
Copyright © 2018, ABC Radio. All rights reserved.