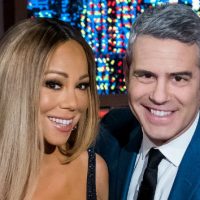 2018 Bravo Media, LLCWhile appearing on Bravo's Watch What Happens Live with Andy Cohen on Monday night, Mariah Carey was asked by a fan to name her favorite song to perform. She chose "All I Want for Christmas Is You" and "Hero" — arguable her two most enduring hits — and then defended her choices.
"I mean, they're, like, the poppiest things that I could say," Mariah admitted. "But the reason I'll say 'Hero' is because it's usually the last song I do if I do it, and everybody's holding up their lighters or their phones and I get a little bit emotional."
Mariah continued, "I'm like, 'How many times have I done this song?' But there's always a specific person out there that has a specific memory associated with the song and I wrote it, so it makes me proud."
During her appearance, Mariah also reminisced about her relationship with the late Aretha Franklin; revealed that she may add some songs from her critically derided 2001 album, Glitter, to the setlist of her upcoming tour; and said she'd love to collaborate with rapper Cardi B.
Copyright © 2018, ABC Radio. All rights reserved.