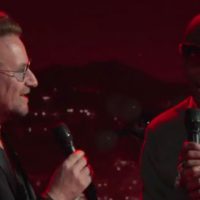 ABCJimmy Kimmel Live! aired its fourth annual (RED) benefit show on Monday, November 19th, in honor of World AIDS Day on December 1st.
Guests for the evening's show included Bono, Brad Paisley, Chris Rock, Will Ferrell, Kristen Bell, Channing Tatum, Snoop Dogg, Mila Kunis, Pharrell and more. As always, the show featured a Home Shopping Network-like Shop-A-Thon segment, in which celebrities inform people what products they can buy that benefit the charity founded by U2's Bono.
The U2 frontman sang a torch song-style cover of the Bee Gees "Stayin' Alive" with Pharrell, and also announced that he'd be collaborating with Lady Gaga for a contest that would have the two icons creating a song named after the winner — with all the proceeds benefiting the HIV/AIDS charity.
More information can be found at the charity's website.

Copyright © 2018, ABC Radio. All rights reserved.