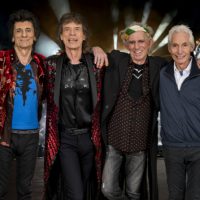 Credit: Dave HoganThere hasn't been any word lately about the status of The Rolling Stones' next studio album, but Mick Jagger has introduced what appears to be a new original Stones tune on his official Facebook page: It's a song that celebrates the band's just-announced 2019 U.S. tour.
In the clip, Jagger is shown lip-syncing to the tune as he strums an electric guitar. The lyrics are as follows: "I just found out today that we're going to the U.S.A/ Where the hell we gonna live?/Where the hell we gonna play?"
Jagger then runs down the various cities where the band will be performing: "There's Miami, Florida/ Jacksonville and Houston/ New Orleans and Glendale/ Pasadena, Santa Clara/ …to Seattle/ Denver, Colorado/ Right across America/ Philadelphia, PA/ Boston, Massachusetts/ Don't forget New Jersey/ Stoppin' in Chicago/ Hope you're gonna see a show/ Hope you're gonna go, go, go."
It's worth noting that New Orleans wasn't on the initial list of cities included in the announcement of The Rolling Stones' 2019 No Filter Tour of the U.S., which kicks off April 20 in Miami Gardens, Florida. However, rumors have circulated that The Stones will be among the headlining acts at this year's edition of the annual New Orleans Jazz & Heritage Festival, which is scheduled to take place April 25-28 and May 2-5.
Interestingly, The Stones have no concerts scheduled between April 28 and May 7. The festival's official lineup will be announced in December.
The tour currently features 13 dates, and is mapped out through a June 21 show in Chicago.
Copyright © 2018, ABC Radio. All rights reserved.