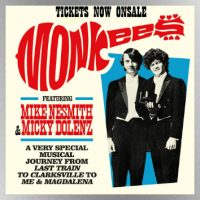 Courtesy of Rhino EntertainmentEarlier this year, The Monkees' Micky Dolenz and Michael Nesmith were forced to cut short their U.S. duo tour, dubbed "The Monkees Present: The Mike and Micky Show," after Nesmith suffered congestive heart failure and had to undergo open-heart surgery. Now, the longtime band mates have scheduled a 2019 stateside trek that includes makeup dates for the four concerts they postponed at the end of the previous outing.
The 12-date tour gets underway on March 1 in Medford, Massachusetts, and currently runs through a March 16 show in St. Charles, Missouri. The rescheduled concerts take place March 5 in Red Band, New Jersey; March 6 in Glenside, Pennsylvania; March 8 in Huntington, New York; and March 9 in New York City.
The new trek is being billed as "Monkees Featuring Mike Nesmith & Micky Dolenz: A Very Musical Journey from 'Last Train to Clarksville' to 'Me & Magdalena.'" Tickets are on sale now.
Last month, The Monkees released their first-ever holiday album, Christmas Party, which featured new contributions from surviving members Dolenz, Nesmith and Peter Tork, as well as archival vocals from the late Davy Jones.
In other news, Tork recently addressed rumors that he has been experiencing health issues that have kept him from taking part in recent Monkees-related tours.
"[W]hile it is true that my health has required a little more attention these days, I'm feeling pretty good," Peter wrote on his official Facebook page last month. "I'm also cherishing this time with family and friends, and making music."
He added, "Keep your eyes open for some possible web concerts with friends and other musicians…this is a private time and I won't be posting updates."
Here's the full list of Nesmith and Dolenz's 2019 tour dates:
3/1 — Medford, MA, Chevalier Theatre
3/2 — Atlantic City, NJ, Ocean Resort Casino
3/3 — Lancaster, PA, American Music Theatre
3/5 — Red Bank, NJ, Count Basie Center for the Arts
3/6 — Glenside, PA, The Keswick Theatre
3/8 — Huntington, NY, The Paramount
3/9 — New York, NY, The Beacon Theatre
3/10 — Albany, NY, Palace Theatre
3/12 — Royal Oak, MI, Royal Oak Music Theatre
3/14 — Prior Lake. MN, Mystic Lake Casino Hotel
3/15 — New Buffalo, MI, Four Winds Casino
3/16 — St Charles, MO, Family Arena
Copyright © 2018, ABC Radio. All rights reserved.