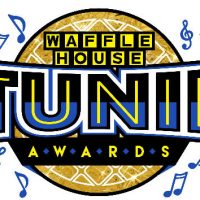 Courtesy of Waffle HouseSales and chart positions are one way to measure a music star's popularity, but if you want to know just how deeply an artist has penetrated the country's consciousness, look no further than Waffle House.
Last week, the popular restaurant chain held its first Waffle House Tunie Awards, honoring the artists whose music was played most over the past 12 months on TouchTunes Jukeboxes at Waffle House's more than 1,900 locations. Among the winners were Michael Jackson and Lynyrd Skynyrd.
The late King of Pop won two awards — Artist of the Year and Best Pop Artist — signifying that Jackson's music was played more than any other artist and pop act on Waffle House jukeboxes. Skynyrd, meanwhile, received the Best Rock Artist prize in honor of the band being the most-played rock act at the restaurant chain.
The most-played individual song was R&B singer Khalid's "Location." Other winners included Beyoncé and country music veteran "Whisperin'" Bill Anderson.
You can watch the entire Tunies ceremony now at the Waffle House Facebook page.
Copyright © 2018, ABC Radio. All rights reserved.