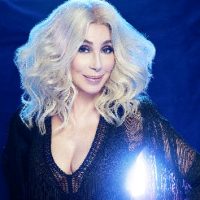 Credit: Machado CicalaCoinciding with The Cher Show, the new Broadway musical based on her life, Cher is featured in the new issue of Elle magazine, talking about life, love and fame.
Recalling the day she met Sonny Bono, her future husband and musical partner, Cher tells Elle, "I swear, it was like the Maria and Tony scene [in West Side Story]. Everyone just disappeared. He was the most unusual person I'd ever seen. He had longish hair, and he had the most beautiful suit on, and beautiful long fingers, and Beatle boots."
Cher recalls that her duo act with Sonny wasn't an immediate hit. "Kids liked it, but adults just hated us. I mean, really hated us. Fistfights, hate," she says. But after Sonny & Cher released "I Got You Babe," things changed.
"Everything happened so fast. I didn't even know where I was," Cher explains. "One day we were poor. Two days, three days later, we were famous."
These experiences and more are featured in The Cher Show, which the star spent years perfecting.
"I'm fussy 'cause it's my story," Cher says. "I want it to be honest and right and funny and sad, like my life."
She adds, "I've had huge failures in my life. Huge dips and 'Oh, you're over. You're over.' This one guy once said, 'You're over,' every year for I don't know how many years. And I just said to him, 'You know what? I will be here when you're not doing what you do anymore.'"
Cher admits, "I had no idea if I was right or wrong [at the time]. I was just tired of hearing him say it."
The Cher Show is currently in previews on Broadway and opens December 3.
Copyright © 2018, ABC Radio. All rights reserved.