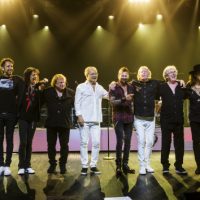 Credit: Karsten StaigerForeigner's current lineup will be joined by original frontman Lou Gramm and four other former band members at four special concerts taking place in the coming weeks in California, New Jersey and Connecticut. The shows, dubbed "Double Vision: Then and Now," kick off with a performance this Friday, November 9, in Los Angeles.
Those shows follow several similar concerts that took place in 2017 and earlier this year where ex-band members also hit the stage with Foreigner's current incarnation. Foreigner lead guitarist and songwriter Mick Jones tells USA Today that the old and new members got along so well at those other shows that they had no qualms about scheduling additional dates.
"My two lead singers, Lou Gramm and [current frontman] Kelly Hansen, really hit it off like a house on fire and the rest of the guys were happy to be a part of it," Jones notes. "[I]t just felt natural and we fell right back into it."
As for the plans for the new concerts, Gramm tells USA Today, "The original band is concentrating on songs from [1978's] Double Vision [album] and then [the current lineup] plays songs from any and all of the albums. After they play and we play, we come out for an encore and do 'Juke Box Hero' and 'Hot Blooded' together."
Meanwhile, Gramm reveals that he and Jones also are planning to get together next year to try to finish some old demos that the duo originally worked on before Lou left Foreigner.
"[W]e listened to [the demos] again a few months ago and they still sound good to us," Gramm explains. "So we may pick a few of those up and then work on some new ideas."
Here are all the "Double Vision: Then and Now" shows:
11/9 — Los Angeles, CA, Microsoft Theater
11/10 — Rancho Mirage, CA, Agua Caliente Casino
11/30 — Atlantic City, NJ, Hard Rock
12/1 — Uncasville, CT, Mohegan Sun Arena
Copyright © 2018, ABC Radio. All rights reserved.