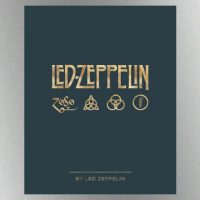 Reel Art PressThe new Led Zeppelin by Led Zeppelin photo book, which the band's surviving members helped put together to mark the group's 50th anniversary, gets published on Tuesday, October 9. To promote the book, guitarist Jimmy Page was interviewed in London recently for a segment of CBS This Morning that aired Monday.
Page admitted to correspondent Charlie D'Agata that he knew as soon as Led Zeppelin began rehearsing that the band — he, singer Robert Plant, bassist John Paul Jones and drummer John Bonham — was something special.
"[T]he first rehearsal that we did was here in London, in a rehearsal room where we had maybe an hour or two hours…and were all playing, and we just kept extending the song and jamming on it." he recalled. "And by the end of it, I absolutely guarantee it was a life-changing experience for everybody from that point. Everyone knew that they'd never played with musical equals."
Reflecting on his original vision for Led Zeppelin, Page said, "I knew that the way to do it was to have four musicians that were just really locked in tight and everyone could be heard on the record, so it wasn't just about one person but the overall."
When asked if he still thinks about playing with the remaining Led Zeppelin members again, Page turned the subject to their 2007 reunion concert in London's O2 arena.
"I'd like to look at that video of us 11 years ago at the O2," he said.
Led Zeppelin by Led Zeppelin is officially sanctioned by the band, and features a career-spanning selection of photographs — many previously unpublished — and images of rare memorabilia selected by Page, Plant and Jones, along with newly penned anecdotes and recollections by the three musicians.
Visit ReelArtPress.com for more details about the book.
Copyright © 2018, ABC Radio. All rights reserved.