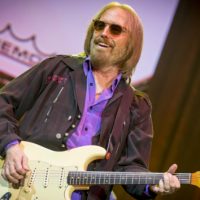 Mark Horton/Getty Images for ABAToday, October 2, marks the one-year anniversary of the death of Tom Petty, who passed away of an accidental overdose of pain medication at age 66. Just one week earlier, the acclaimed and beloved rock artist had completed a 40th anniversary tour with his longtime band The Heartbreakers.
With The Heartbreakers, Petty released 16 studio albums, which included hits like "Don't Do Me Like That," "Refugee," "Here Comes My Girl," "The Waiting," "You Got Lucky," and "Don't Come Around Here No More." He also found success as a solo artist, most notably with the 1989 album Full Moon Fever, which has sold five million copies in the U.S. and featured the hits "Free Fallin'," "I Won't Back Down" and "Runnin' Down a Dream."
In addition, Petty was a member of the supergroup The Traveling Wilburys, alongside George Harrison, Bob Dylan, Roy Orbison and Jeff Lynne. Tom and the Heartbreakers were inducted into the Rock & Roll Hall of Fame in 2002.
Petty may be gone, but his music and legacy live on. This past Friday, a box set titled An American Treasure hit stores. It features a bounty of unreleased material, compiled and curated by family members and musical collaborators, including Heartbreakers guitarist Mike Campbell and keyboardist Benmont Tench.
Campbell, who recently joined Fleetwood Mac's lineup, tells Rolling Stone that the group will pay tribute to Petty by performing his smash "Free Fallin'" during its upcoming North American tour, launching this week.
During a 2014 event where the performing-rights organization ASCAP presented him with its prestigious Founders Award, Petty was asked by the press about his knack for writing enduring songs.
"I wish I could tell you better, but it's so mystical," he noted. "Magic is a trick, but this is truly magic, 'cause there's no trick involved."
Copyright © 2018, ABC Radio. All rights reserved.