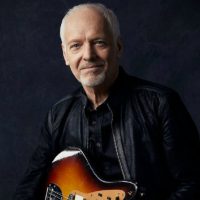 Credit: Austin LordPeter Frampton will give a headlining performance at a new annual charity event called the A Night of Dreams gala that's organized by The Ed Asner Family Center. The fundraiser will take place on November 15 at the Exchange L.A. venue in Los Angeles.
The gala will benefit The Ed Asner Family Center, a facility that offers wide-ranging support for special needs children and their families.
Comic and actress Wanda Sykes will host the fundraiser, which also will feature a performance by singer/guitarist Naia Izumi, winner of the 2018 Tiny Desk Contest.
In addition, the event will honor three people for their charitable work aiding the special-needs community — actor Ed Asner, who co-founded the Center; celebrity chef Art Smith; and award-winning TV producer Elaine Frontain Bryant.
"Autism and special needs including Down Syndrome, developmental delays, Cerebral Palsy and others touches all of us personally," says Ed Asner Family Center president Matthew Asner, Ed Asner's son. "We are excited to help raise awareness and funds for this wonderful new center that will bring life changing support to special needs children and their families, providing a major local impact in our community."
He adds, "Our talent is second to none and we are thrilled to spotlight the legendary Peter Frampton in an epic concert."
In other news, Frampton has signed on to help ring in the New Year in his adopted hometown of Nashville. The British guitar wiz is part of the entertainment lineup of Jack Daniel's Music City Midnight: New Year's Eve in Nashville, a free concert that also will feature country star Keith Urban, folk/hip-hop outfit Judah & the Lion and other acts. You can purchase vacation packages and find out more details about the event at VisitMusicCity.com.
Copyright © 2018, ABC Radio. All rights reserved.