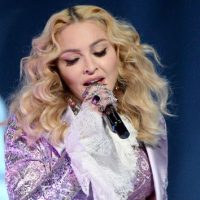 Jeff Kravitz/Getty Images via ABCLooks like we'll have to wait a bit longer for new Madonna music.
Despite reports that the Queen of Pop's new album would be released before the end of this year, it seems it's been a little delayed. In an interview with WWD to promote her MDNA Skin line, Madonna reveals, "I'm finishing my record, which I'm going to release next year. Yep, in between rose mist spray and serums, I'm actually making music. Can't quit my day job."
When the album actually arrives, it'll be her first since 2015's Rebel Heart.
Madonna also tells WWD that "some day in the future," she'll release her own line of cosmetics. In the meantime, she's promoting a new addition to the skin care line: an infrared carbon roller.
Available starting Tuesday via MDNASkin.com and Barneys.com, it costs 200 bucks and, as WWD explains, uses "ultra-infrared sculpting energy that lifts, firms and eases tension in the face and other areas of the body."
Madonna says she uses the roller twice a week, "especially when I'm tired, if I have to go out, if I've had a whole week where I haven't had a moment to get a facial or take care of myself and I need a pick-me-up."
"I use it for massage…to work on cellulite on the back of my legs…for neck massage…and then of course I use it on my jawline and my cheek bones for firming," she explains.
Asked how she wants people to feel after using her MDNA Skin products, Madonna says, "Tight and lifted and snatched."
Copyright © 2018, ABC Radio. All rights reserved.