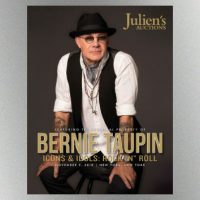 Courtesy of Julien's AuctionsWhile Elton John is currently on his farewell tour, his longtime songwriting partner, Bernie Taupin, is saying farewell to years' worth of memorabilia and collectibles.
Julien's Auctions will be selling Taupin's personal property both live and online on Friday, November 9. Among the items going under the hammer are his original lyrics for Elton hits like the Princess Diana tribute "Candle in the Wind 1997," "I'm Still Standing," "Nikita" and "Empty Garden (Hey Hey Johnny)," as well as album tracks like "Better Off Dead, "Gotta Get a Meal Ticket" and "Ballad of a Well-Known Gun."
Taupin's handwritten lyrics for hits he penned for other artists, such as Heart's "These Dreams" and Starship's "We Built This City," are also being auctioned off. Other lots include his gold and platinum records for classic Elton albums like Goodbye Yellow Brick Road, Captain Fantastic & the Brown Dirt Cowboy, Honky Chateau, Tumbleweed Connection and Don't Shoot Me I'm Only the Piano Player.
Other auction items of note: the Special Recognition MTV Moonman trophy Taupin won in 1987, artwork and sculptures, a program from Diana's funeral, Taupin's vintage steel guitar, clothing, jewelry and a leather desk chair from Taupin's office in Santa Ynez, California, where he's written songs for over 25 years.
In a statement, Taupin says, "As a storyteller first and foremost, I'm grateful to have been able to share these stories with the world throughout my life. I hope that these items that have shaped my work and fueled my passions will inspire and give as much joy to others as they've given me."
The items will be on display to the public from November 5 through November 9 at the Hard Rock Cafe in New York City. The auction will also take place there at 10 a.m. ET. Visit JuliensAuctions.com for more info.
Copyright © 2018, ABC Radio. All rights reserved.