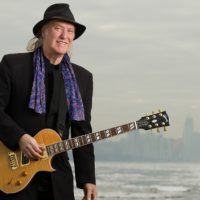 Credit: Steve HocksteinIn recent interviews, Kinks founders Ray and Dave Davies have revealed that they've been discussing possibly collaborating on a reunion project that may center around unfinished tracks recorded prior to the band's 1995 breakup and new songs the siblings started working on a couple of years ago. Now, Dave has given an update on where things stand with the potential reunion.
"We are gonna try and do something. Not sure what," he tells ABC Radio. "But we've been talking about doing some songs. We've already written a couple of tunes, and I know Ray's got…stuff on old tapes, archived things that we can work on, that [we can soup] up or bring them up to date, or out of date or something."
He adds, "I'll be going back to U.K. in a few weeks, and we'll meet up and we'll see where we are with it all."
In a perhaps surprising revelation from the 71-year-old guitarist, Dave says he's willing to work again with original Kinks drummer Mick Avory, with whom he's long had a contentious relationship.
"I think some of the tracks that Ray's talking about, some of the old [Kinks] tracks that we never used, I think he wants to put Mick on them, and…we need to work on them," Dave explains. "So it would be nice to work with Mick again."
Dave also says he's open to performing again with Ray.
"I'd love us to do something…before we get too old and decrepit," he tells ABC Radio. "But we haven't really decided exactly what to do yet."
As previously reported, Kinks guitarist Dave will be releasing an archival album of his 1970s solo recordings called Decade on October 12.
Copyright © 2018, ABC Radio. All rights reserved.