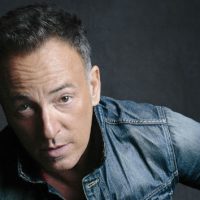 Credit: Danny ClinchMusic fans attending Social Distortion's concert Sunday at the Sea.Hear.Now festival on the beach at Asbury Park, New Jersey, were treated to a surprise appearance by The Boss himself, Bruce Springsteen.
NJ.com reports that the New Jersey rock legend joined the veteran punk-rock band for a cover of Johnny Cash's "Ring of Fire," also backed up Social D on two of their own tunes — "Misery Loves Company" and "Bad Luck." You can check out fan-recorded footage of the performance on YouTube.
In other news, Springsteen has teamed up with the Hard Rock corporation and the WhyHunger organization to launch a new limited-edition merchandise line that will raise money for the charity's initiatives to help fight hunger and poverty.
The Bruce Springsteen Signature Series: Edition 36 collection, which debuted Monday, includes a t-shirt, a baseball hat and a pin featuring the title of the Boss' song "Land of Hope and Dreams." The items can be purchased online at HardRock.com and in "Rock Shops" at select Hard Rock Cafe, Hotel and Casino locations across the globe.
A portion of the retail price of each piece of Springsteen merchandise will be donated to WhyHunger via the Hard Rock company's Hard Rock Heals Foundation.
"As a founding member of WhyHunger's Artists Against Hunger & Poverty, Bruce has made a major impact on our efforts to find community-driven solutions to help farmworkers, food banks and more," says WhyHunger executive director Noreen Springstead. "We are thrilled to once again have Bruce lend his voice to advocate for social and food justice."
The new Springsteen t-shirt is red with navy blue lettering, the hat is black with white embroidered letters, and the pin is shaped like an electric guitar with a red body and navy-blue pick guard.
Copyright © 2018, ABC Radio. All rights reserved.