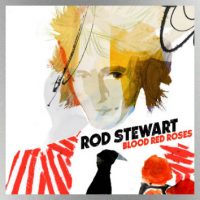 Republic RecordsRod Stewart's 30th album, Blood Red Roses, arrives today. While Stewart has enjoyed plenty of #1 albums over the years, he says he won't be particularly upset if this one doesn't top the charts. As he tells ABC Radio, "I don't want to be greedy."
"I make what I consider records for friends," he explains. "I've had such a wonderful success over the years…I'm not too upset if it doesn't do well, this new album — but I'll be bloody over the moon if it does!"
Blood Red Roses feautres mostly original songs by Rod, and a few covers. In the span of the album, you'll hear rock, blues, disco and folk, as he spins tales of love, loss, parenthood, the human condition and even whaling, which is what the title track is about.
"It just sounds great — 'Red, Blood, Roses' — just a wonderful title," Stewart maintains. "It wasn't my title, it was an old folk song that I just used part of…and wrote the rest of it myself. I embroidered it."
As for the album's eclectic sound, Rod says it just "came out that way."
"I write stories. They have beginnings, they have middles and they have ends and I think that's true with nearly every song on the album," he explains.
While his songs may be traditional, Stewart happily embraced new technology while making the disc.
"It's a transatlantic thing. I live basically in London and my co-producer lives in Los Angeles…and we just send each other emails and songs," Rod explains. "And at the end of the month, we get together for two..or three days and finish them off. Whereas in the old days, I would spend days and days in a studio just getting a bass drum sound!"
Copyright © 2018, ABC Radio. All rights reserved.