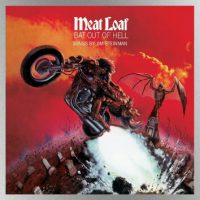 Sony Music EntertainmentThe musical inspired by Meat Loaf's landmark 1977 album Bat Out of Hell and its sequels will get its U.S. debut as part of a 19-city tour kicking off with a November 6-17 engagement in Detroit. Bat Out of Hell: The Musical features songs written by Jim Steinman, including such Meat Loaf hits as "Two Out of Three Ain't Bad," "Paradise by the Dashboard Light," "You Took the Words Right Out of My Mouth" and "I'd Do Anything for Love (But I Won't Do That)."
Before the U.S. tour begins, the production will return to Toronto's Ed Mirvish Theatre — where the musical made its North American debut in October 2017 — for an October 16-November 4 run.
The show is a romantic adventure focusing on an eternally youthful street tribe that battles a tyrant desperately for control of the ruined city where they live.
Bat Out of Hell: The Musical had its world premiere in Manchester, U.K., in early 2017, then moved to the London Coliseum in London for an engagement that ended on August 22, 2017. The show's first Toronto run wrapped up in January 2018, and the production then returned to London, where it opened at the Dominion Theatre in April. That engagement is scheduled through an October 27 performance.
"Just like the album Bat Out of Hell, this musical was born to tour," says Steinman. "I'm thrilled that the show has been so well received in the U.K., but not everyone can get to London, so I'm delighted that the producers decided to take the show on the road here."
The U.S. tour currently is confirmed through a June 26-July 7 engagement in Dallas. More performances and cities will be announced soon.
Here's the confirmed North American tour schedule:
10/16-11/4 — Toronto, ON, Canada, Ed Mirvish Theatre
11/6-11/17 — Detroit, MI, Fox Theatre
11/21-12/1 — Salt Lake City, UT, Eccles Theatre
12/4-12/23 — San Francisco, CA, SHN Orpheum Theatre
1/8/19-2/2/19 — Los Angeles, CA, Ahmanson Theatre
2/6-2/17 — Denver, CO, Denver Center – Buell Theatre
2/20-2/24 — Indianapolis, IN, Murat Theatre
2/26-3/3 — Des Moines, IA, Fox Theatre
3/5-3/10 — St. Louis, MO, Fox Theatre
4/3-4/21 — Boston, MA, Wang Theatre
4/23-5/5 — Philadelphia, PA, Forrest Theatre
5/7-5/26 — Washington, D.C., National Theatre
5/28-6/9 — Charlotte, NC, Blumenthal Pac – Blek Theatre
6/12-6/23 — St. Paul, MN, Music Theatre at the Ordway
6/26-7/7 — Dallas, TX, AT&T Performing Art Center
Copyright © 2018, ABC Radio. All rights reserved.