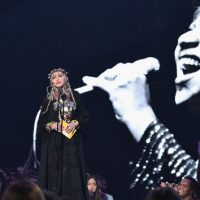 John Shearer/Getty Images for MTVMadonna's tribute to the late Aretha Franklin on Monday night's MTV Video Music Awards has been one of the most talked-about moments of the telecast, but not in a good way.
Many fans took to social media to express their dismay at the Queen of Pop's speech, which was almost completely focused on her own experiences as a struggling star. Aretha only entered into it when Madonna revealed that she got a major break when she sang the Queen of Soul's hit "(You Make Me Feel Like) A Natural Woman" at an audition. That's why, she explained, Aretha "changed the course of my life."
Madonna responded to the criticism on Instagram, saying her mini-speech was not meant to be a tribute to Aretha.
"I was asked to present video of the year by MTV! And then they asked me to share any anecdotes I had in my career connected to Aretha Franklin!" she wrote. "I shared a part of my journey and thanked Aretha for inspiring me along the way. I did not intend to do a tribute to her!"
She adds, "That would be impossible in 2 minutes with all the noise and tinsel of an award show. I could never do her justice in this context or environment."
After the VMAs Monday night, Billboard reports that Madonna continued her evening by taking in Ariana Grande's intimate concert for 1,000 fans at New York's Irving Plaza. Alerted to her presence, Ariana said, "Oh, my God, where is she?! You guys, Madonna is here. Hi, Madonna. Guys, I'm going to pass out."
Madonna provides the voice of God in Ariana's video for her song "God Is a Woman." She was seen applauding after Ariana performed the song at the Irving Plaza show.
Copyright © 2018, ABC Radio. All rights reserved.