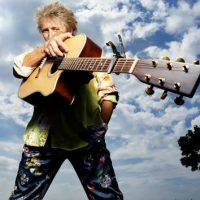 Credit: RankinForget about selling albums and t-shirts: Rod Stewart is now auctioning off his furniture.
The British paper The Guardian reports that on September 11, a collection of Stewart's furnishings are going on the auction block. Among the more than 60 lots: gilt and bronze side tables, a teak armchair with a faux leopard print cushion, figurines, 19th century mirrors and bronze wall sconces.
The items are reportedly from Rod's mansion in Essex, U.K., which he's put on the market. The auction director says in a statement, "We all have a good sort-out once in a while and that is the case with Sir Rod Stewart in this instance. He has accumulated many things over his lifetime and has decided now is the time to have a bit of a clear-out."
The director adds, "He lives locally to us and we are selling items of his including settees, lighting and furniture. The items are all very glitzy and glamorous and there is lots of gold – all very rock 'n' roll."
You can check out photos of some of the items over at the BBC's website.
Copyright © 2018, ABC Radio. All rights reserved.