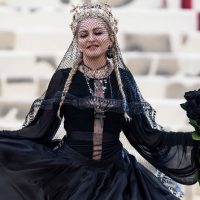 Gilbert Carrasquillo/GC ImagesMadonna is celebrating her 60th birthday today by releasing a never-before-seen video of her 2018 MET Gala performance.
The performance, witnessed exclusively by guests of the star-studded soiree back in May, is now on YouTube for all to experience.
Following the MET Gala's theme of "Heavenly Bodies: Fashion and the Catholic Imagination," the performance begins with religious imagery and chanting monks. Madonna appears in a hooded monk's robe at the top of the museum's stairs and launches into "Like a Prayer."
She then removes to the robe to reveal a white, Joan of Arc-inspired outfit and begins singing a new track, "Beautiful Game," while surrounded by female dancers also dressed in white. For her final song, she sings a haunting cover of Leonard Cohen's "Hallelujah."
And as previously announced, Madonna is also raising money for the children Malawi in honor of her birthday. Madonna teamed up with Facebook and Ripple — a global payment company — to encourage fans to donate to Raising Malawi, her charity foundation that helps orphans and vulnerable children in that African nation. The fundraiser runs until August 31.
Copyright © 2018, ABC Radio. All rights reserved.