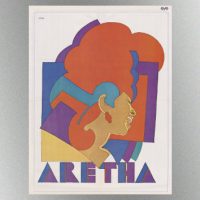 National Portrait Gallery, Smithsonian Institution © Milton GlaserThe Smithsonian's National Portrait Gallery will pay tribute to Aretha Franklin — who died of cancer today at age 76 — by putting a lithographic poster of the Queen of Soul on display in the museum's "In Memoriam" area on Friday morning.
The poster, which was created in 1968 by acclaimed graphic designer Milton Glaser, will remain on view through this Wednesday, August 22. In the poster, Glaser used a kaleidoscopic palette of colors and unique geometric shapes to help depict Aretha's energetic performance style.
Franklin, who was widely considered to be among the greatest singers of her generation, was recognized by the National Portrait Gallery in 2015 with the Portrait of a Nation Prize. Coinciding with the honor, Franklin gave a performance at the American Portrait Gala event that included renditions of her classic songs "Respect," "Think" and "Chain of Fools."
In addition to viewing the poster at the gallery, you can check out a high-res version of the piece at NPG.si.edu.
Copyright © 2018, ABC Radio. All rights reserved.