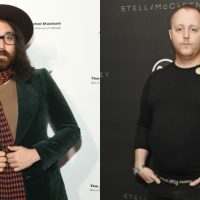 Ben Gabbe/Getty Images; David M. Benett/Dave Benett/Getty Images for KeringIt's Lennon and McCartney for a whole new generation. The late John Lennon's son, Sean, took to his Instagram page on Monday to post a photo of himself with Paul McCartney's son, James. Sean captioned the pic, simply, "Peekaboo…"
The Lennon and McCartney boys are both singer/songwriters — as is George Harrison's son, Dhani — and Beatles fans have long been curious about what would happen if the Fab Four members' various musical progeny actually collaborated. Currently, there's no word on whether Sean and James have any plans to make music together.
Sean's most recent project was 2017's Lime and Limpid Green, which he recorded as a member of the duo The Claypool Lennon Delirium, with Primus frontman Les Claypool. McCartney's latest album is the 2016 solo effort The Blackberry Train.
In other news, this past Sunday, Sean Lennon teamed up with Lenny Kravitz in New York City to tape an upcoming episode of the public-TV interview series, Speakeasy. The show is expected to air in early 2019 as part of Speakeasy's fourth season.
Copyright © 2018, ABC Radio. All rights reserved.