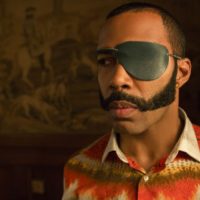 Credit: Peter Prato/Annapurna Pictures(NEW YORK) — Omari Hardwick is very different from his Sorry to Bother You character, Mr. _____, a telemarketer who uses his 'white voice' to get ahead in his career.
Although Hardwick can understand the need to code switch — that is, use the vernacular of those predominately in power in order to fit in — the Power star tells ABC Radio he's never quite felt the pressure to actually change his voice, like his character does.
"I've definitely at times spoken in a particular way, but it definitely was not going into my Oswalt voice," he says, referring to actor and comic Patton Oswalt, whose voice was used as his character's 'white voice.' "That is a whole nother [level]."
Instead, Hardwick says that like other black men — "from President Obama…to Lakeith's character" — he has, at times, had to switch up his behavior in order to be accepted or not considered a threat.

"You know, you hear that a lot, especially if you're an educated African-American and, you know, you're speaking the vernacular of the neighborhood, or the slang in a neighborhood or whatnot," he says, referring to the idea of code switching. "I don't necessarily think that the voice is ever gone."
While Omari admits that he does work on enunciating, articulating and not splitting his verbs as much, don't expect the actor to change too much.
"I don't really know if you guys would rock with me as an artist if you ever found even clippings of like, 'What is Omari doing?' So..I've definitely always been me," he says.

Sorry to Bother You, also starring LaKeith Stanfield, Tessa Thompson and Armie Hammer, is in theaters nationwide.
Copyright © 2018, ABC Radio. All rights reserved.