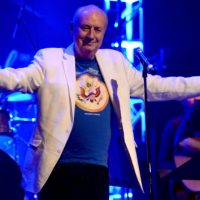 Scott Dudelson/Getty ImagesThe Monkees' Michael Nesmith and Micky Dolenz were forced to cancel the final four dates of their "The Monkees Present: The Mike & Micky Show" last month tour after Nesmith became ill before a June 21 concert near Philadelphia. Now we know more about what happened to him.
Nesmith reveals in a new Rolling Stone interview that he was rushed to a hospital after experiencing shortness of breath at the venue, and ended up undergoing a quadruple bypass operation.
"I was using the words 'heart attack' for a while," he explains to the magazine. "But I'm told now that I didn't have one. It was congestive heart failure."
Nesmith adds, "If anybody ever comes up to you on the street and offers you [bypass surgery] for free, turn them down. It hurts."
Following the operation, which he had in Carmel, California, the 75-year-old singer spent about 10 days in a hospital. Now recuperating at home, he says, "I think, candidly, I'm back to 80 percent. I feel like I'm increasing exponentially daily…I'm seeing the light at the end of the tunnel. My thinking is clear and I know who I am and where I am. It all feels like a natural healing process."
Nesmith is feeling well enough to move ahead with a previously planned September tour with a new version of his early-'70s country-rock group The First National Band. The trek is mapped out from a September 7 show in Houston through a September 23 concert in Ridgefield, Connecticut.
Meanwhile, Nesmith's postponed shows with Dolenz are expected to be rescheduled for early 2019.
As for how he feels about doing more concerts with Dolenz, Mike says, "I don't have any reason to say no to anything."
Copyright © 2018, ABC Radio. All rights reserved.