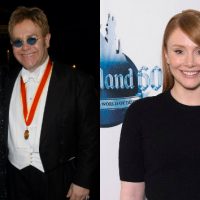 KMazur/WireImage; ABC/Richard HarbaughBryce Dallas Howard has signed on to play Elton John's mother in the pop-rock legend's upcoming biopic Rocketman, Variety reports.
The Jurassic World actress joins a growing cast that includes Taron Egerton as Elton, Jamie Bell as John's longtime songwriting partner Bernie Taupin and Richard Madden as his former manager, John Reid. The film follows Elton's journey from young music student to worldwide superstar.
Elton's mom, Sheila Farebrother, died last December at the age of 92. Elton and his mother were estranged for several years, but they made up two years prior to her death. After she passed away, John dedicated "Your Song" to her at one of his shows.
"So sad to say that my mother passed away this morning," Elton posted to Instagram last year. "I only saw her last Monday and I am in shock. Travel safe Mum. Thank-you for everything. I will miss you so much. Love, Elton."
Rocketman, directed by Dexter Fletcher, will arrive in theaters on May 17, 2019.
Copyright © 2018, ABC Radio. All rights reserved.