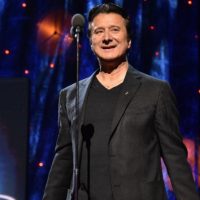 Kevin Mazur/WireImage for Rock and Roll Hall of FameIn an exclusive interview with ABC Radio in April 2017, ex-Journey frontman Steve Perry said he was planning to release a new solo album later that year. While the record never materialized, new reports now suggest that the singer will be putting out the album in October.
First off, a press release from Journey guitarist Neal Schon states that Perry's album will drop in October — though Perry's rep, when contacted by ABC Radio, had no comment on Schon's claim.
Meanwhile, a Perry Facebook fan page has posted screen grabs of social media messages from a company called Hart Images Media Services, claiming that it recently filmed an interview with Perry at his home in Hanford, California, for an episode of CBS Sunday Morning that will allegedly air on October 7. One of the messages also includes a still photo of Perry apparently being interviewed.
And in yet another online tidbit indicating Perry may be ready to return to the spotlight, veteran pop-rock group Toad the Wet Sprocket posted a video on its Facebook page on Wednesday showing Perry harmonizing with some of the band's members. Accompanying the clip is a message that reads, "What do you say when Steve Perry crashes your tour rehearsal and wants to sing??? YES!"
Getting back to the Schon press release, it directs fans to an interview the guitarist did with the Denver-based Westword newspaper. In it, Neal says that he'd love Steve to contribute to a new album he's been recording with acclaimed drummer/producer/songwriter Narada Michael Walden that's due out in 2019.
"I think we would turn out something that he would really dig," Schon declares.
Copyright © 2018, ABC Radio. All rights reserved.