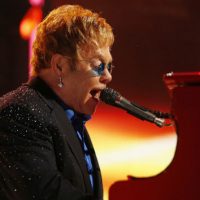 ABC/Randy HolmesFormer Game of Thrones star Richard Madden is in talks to join the Elton John biopic Rocketman, according to The Hollywood Reporter.
The actor will reportedly play Elton's former manager, John Reid, who worked with the pop-rock legend for over three decades beginning in the '70s. He'll join Taron Egerton, who is playing Elton.
It was previously reported that Billy Elliot's Jamie Bell was in negotiations to play John's longtime songwriting partner, Bernie Taupin.
Rocketman, directed by Dexter Fletcher, will arrive in theaters May 17, 2019.
Madden previously played Robb Stark on HBO's Game of Thrones, and recently starred on Amazon's Strange New Things.
Copyright © 2018, ABC Radio. All rights reserved.